Nutrition and pregnancy: the importance of fruits and vegetables
A maternal diet rich in nutrients and micronutrients, before and during pregnancy, is associated with a good health for the fetus and a better weight at birth.  It usually benefits both the mother and the child. Pregnancy is a unique time in life when women are very motivated to improve their diet and receive advice from their doctor. Gynecologists and general practitioners have an important part to play with their patients.
Nutritional recommendations during pregnancy are subject to a scientific consensus which endorses plant-based food and especially fruit and vegetables, a source of vitamins, minerals and antioxidants. Current recommendations say we should at least eat 5 portions of fruit and vegetables a day (≥ 400– 500g) in all their forms.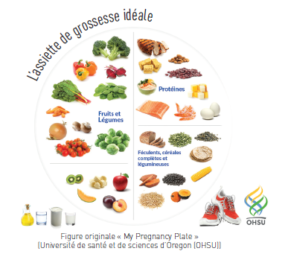 Practical tools dedicated to doctors
On this theme, the state of knowledge was presented by Fionnuala McAULIFFE – Professor of Obstetrics and Gynecology at the National Maternity Hospital, Dublin – during the 8th edition of the EGEA conference "Nutrition and health: from science to practice". EGEA 2018 is a part of the triannual program "F&V for health", co-financed by the European Union. The goal of this program, led by Aprifel, is to inform Europeans on the importance of a healthy diet based on fruit and vegetables.  It targets health professionals to make them use this current nutrition knowledge and discuss it with their patients. Practical sheets intended for doctors will be elaborated in collaboration with international associations of general practitioners. Aprifel will be at the Obstetrics and Gynecology conference from March 20th to 22nd (stand 18) to present the program and tools to doctors.
For more information:
Références :
Lowensohn R et coll. 2016. Current Concepts of Maternal Nutrition. Obstet Gynecol Surv. 2016 Aug;71(7):413-26.
Hillesund, E. R et coll. 2016. « Effect of a diet intervention during pregnancy on dietary behavior in the randomized controlled Norwegian Fit for
Delivery study ». Journal of Developmental Origins of Health and Disease 7 (5)
Recommandations relatives à l'alimentation, à l'activité physique et à la sédentarité pour les adultes. Santé Publique France (2019)
Source : Dr Thierry Gibault, nutritionnist, endocrinologist, Paris – FRANCE