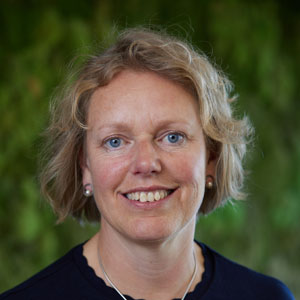 The Hague University, Netherlands
Dr Machteld van Lieshout (1971) is currently a principal lecturer at The Hague University of Applied Sciences (THUAS), The Netherlands.
She educated at Wageningen University, Netherlands where she graduated with an MSc in Nutrition & Health and a PhD in Nutrition, Food Technology and Biotechnology. Following her departure from Wageningen, she held research positions in Scotland and South Africa and worked as a nutrition consultant, both independently and at the KraftHeinz Company, in the Netherlands.
Since 2017, she combines teaching and research at the Department of Nutrition & Dietetics and the Research Group Healthy Lifestyle in a Stimulating Environment, which is part of the Centre of Expertise Health Innovation at THUAS. Her main research area is healthy lifestyle of children and adolescents, digital research and support tools related to mHealth, eHealth, nutritional assessment, etc.
In 2021-2022, Machteld was project leader for the research phase of the Food Boost Challenge. A program which recently won the Pim Breebaart Research Award. According to the unanimous jury, in addition to a qualitatively strong study, the team, which also includes Wendy Scholtes-Bos and Sanne de Vries, also set up and conducted the most innovative research.
Machteld is an ambassador for research-driven education integrating her research projects within the curriculum of Nutrition & Dietetics. Connecting research, education and innovation of professional practice, she and her colleague Dr Maartje de Groot recently started an innovation community for the promotion and application of eHealth in Nutrition & Dietetics.
Machteld recently started as project leader for the Westland Educational BooST, a 4-year-long design-oriented project for development of an educational concept for vocational students enabling them to jointly solve public-private issues.
Recent publications:

Van Lieshout M

, et al. Wishes and needs of children, parents and healthcare professionals for blended care for children with overweight. ISBNPA. 2023 (abstract).

 

Van Lieshout M

, et al. The Food Boost Challenge: a social innovation designed for stimulating adolescents into consuming more fruit and vegetable products.

Acta Horticulturae

2022. Accepted.

 

Cámara, M, et al. International requirements for demonstrating the beneficial effects of tomato products on atherosclerosis prevention.

Acta Horticulturae

2022:1351; 249-56.

 

Wijbers JV, et al. Endometriosedieet: ondersteunend aan een betere kwaliteit van leven?

Nederlands Tijdschrift voor Obstetrie en Gynaecologie

2021;134:134-138.

 

Van Lieshout M

, et al.

Choice of substitute products significantly affects energy and nutrient intake estimates in a digital dietary intake tool (

eICDAM

) A Global Twenties

Vision, hosted by Wageningen University & Research. 2021:186 (Abstractbook)

 
---