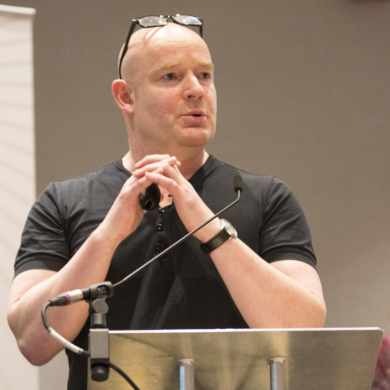 Professor at the School of Psychology, University of Leeds
Professor James Stubbs has over 25 years research experience in appetite science, nutrition, exercise and energy balance, necessarily incorporating body composition, human behaviour, physiology and psychology of food intake, diet composition, obesity.
He has extensive experience in research-intensive environments, conducting integrated human trials and interventions, concerned with diet composition, physical activity, energy balance, weight control and obesity. He specialises in bridging academic and industry interests, communicating at national and international conferences, in the media and in policy development within Europe and the United States. James has conducted over 70 studies, on human appetite, energy and nutrient balance and obesity (h-index 49) and has 10 years of industry experience and academic collaborations in developing applied solutions to weight control among in the general population, with a special interest in sustained weight loss, relapse prevention and weight maintenance strategies.
 James's current research focuses on (1) how foods and whole diet approaches impact on appetite and energy balance (2) psychobiological mechanisms of resistance to weight loss (3) developing theoretically-informed, evidence based solutions for longer-term weight loss maintenance. These core themes are nested within an overarching philosophy of understanding psychobiological mechanisms that can inform interventions most likely to achieve impact on weight and health in the general population.
Recent Publications

 Hopkins M, Finlayson G, Duarte C, Whybrow S, Ritz P, Horgan GW, Blundell JE and Stubbs RJ. Modelling the associations between fat-free mass, resting metabolic rate and energy intake in the context of total energy balance. International Journal of Obesity and Related Metabolic Disorders 2015 doi:10.1038/ijo.2015.155.
Stubbs J, Morris L, Pallister C, Avery A, Horgan G, Lavin J. Weight outcomes audit in 1.3 million adults during their first 3 month's attendance in a commercial weight management programme. BMC Public Health 2015, 15; 822. doi:10.1186/s12889-015-2225-0
Sainsbury K, Evans EH, Pedersen, S, Marques MM, Teixeira, PJ, Lahteenmaki, L, Stubbs RJ, Heitmann BL, Sniehotta,FF. Attribution of weight regain to emotional reasons amongst European adults with overweight and obesity who regained weight following a weight loss attempt. Eating and Weight Disorders (In Press).
Hopkins M, Finlayson G, Duarte, Gibbons C, Johnstone AM, Whybrow S, Horgan GW, Blundell JE, Stubbs RJ. Biological and psychological mediators of the relationships between fat mass, fat-free mass and energy intake. International Jorunal of Obesity and Related Metabolic Disorders (ePub ahead of print) doi:10.1038/s41366-018-0059-4.
Stubbs RJ, Hopkins M, Finlayson GS, Duarte C, Gibbons C, Blundell JE. Potential effects of fat mass and fat-free mass on energy intake in different states of energy balance. European Journal of Clinical Nutrition (In press).