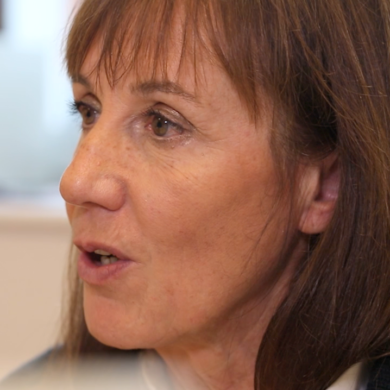 Professor of Nutrition, Université Claude Bernard Lyon 1.
Martine Laville is a MD, specialist in Endocrinology, Diabetes and Nutrition, Professor of Nutrition at Medical school in Lyon 1 University, PhD in Human Biology in 1987. Past activity as researcher at the INSERM in Lyon from 1992 to 1997.
Head of the Human Nutrition Research Centre of Rhône-Alpes since 1996 (CRNH). CRNH is a platform for clinical research in Nutrition used both by academic and industrials. She is currently the president of CENS (Center European for Nutrition and Health). CENS brings together all the forces in human nutrition research (ranging from molecular and cellular aspects to Economics and Social Sciences) from the Rhone Alpes region in connection with the European network of research center in nutrition. She is the leader of FORCE (French Obesity Centre of Excellence) a network between Lyon-Paris and Toulouse to developed trials for obesity treatment.
She has published more than 200 papers in paired reviewed journals. She is involved in European infrastructure projects ECRIN (WP Nutrition leader), RICHFIELD, SEMEIOTICONS. Professor Martine Laville has been President of the AFERO (French Society for Obesity Research) from 1995 to 2005 and is a member of several scientific societies both on obesity and diabetes. She was the chair for the European Congress of Obesity in may 2012 in Lyon. She is also the president of the National Council of University for Nutrition (CNU: 4404) and the president of the Medical Committee of her University Hospital.
Recent publications
Allirot X, Seyssel K, Saulais L, Roth H, Charrié A, Drai J, Goudable J, Blond E, Disse E, Laville M. Effects of a breakfast spread out over time on the food intake at lunch and the hormonal responses in obese men. Physiol Behav. 2014 Mar 29;127:37-44.
Seyssel K, Alligier M, Meugnier E, Chanseaume E, Loizon E, Canto C, Disse E, Lambert-Porcheron S, Brozek J, Blond E, Rieusset J, Morio B, Laville M, Vidal H. Regulation of Energy Metabolism and Mitochondrial Function in Skeletal Muscle during Lipid Overfeeding in Healthy Men. J Clin Endocrinol Metab. 2014 Jul;99(7):E1254-62
Seyssel K, Meugnier E, Lê KA, Durand C, Disse E, Blond E, Pays L, Nataf S, Brozek J, Vidal H, Tappy L, Laville M. Fructose overfeeding in first-degree relatives of type 2 diabetic patients impacts energy metabolism and mitochondrial functions in skeletal muscle. Mol Nutr Food Res. 2016 Jul 28
Iceta S, Julien B, Seyssel K, Lambert-Porcheron S, Segrestin B, Blond E, Cristini P, Laville M, Disse E. Ghrelin concentration as an indicator of eating-disorder risk in obese women. Diabetes Metab. 2018 Jan 27. pii: S1262-3636(18)30008-9
Bétry C, Thobois S, Laville M, Disse E. Deep brain stimulation as a therapeutic option for obesity: A critical review. Obes Res Clin Pract. 2018 Feb 20. pii: S1871-403X(18)30054-