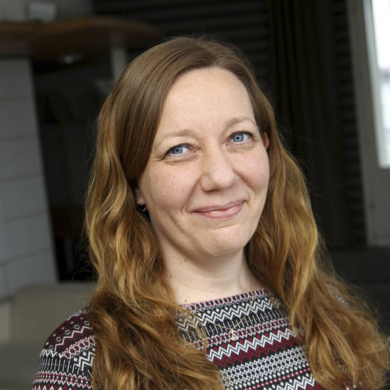 Associate professor, National Institute for Health and Welfare, Helsinki, Finland
Tiia Ngandu is currently working at the Public Health Promotion Unit, National Institute for Health and Welfare, Helsinki, Finland as a research manager and leader of the Dementia Prevention group. She is also affiliated to the Alzheimer's Disease Research Center, Karolinska Institutet, Stockholm, Sweden. She has completed her medical studies in 2007 at the University of Kuopio, Finland, and her PhD in 2006 at the Karolinska Institutet, Sweden. She received the title of docent at the University of Helsinki in 2017.
Tiia Ngandu's major research interests are in the area of dementia epidemiology, particularly risk factors and prevention of Alzheimer's disease and cognitive impairment. She is involved in population-based studies investing modifiable dementia risk factors, and clinical trials to prevent dementia. She is the coordinator of the ongoing Finnish Geriatric Intervention Study to Prevent Cognitive Impairment and Disability (FINGER). She is also involved in several European and global dementia prevention projects, including the recently launched World Wide FINGERS network. She has authored approximately 50 original articles.
Recent publications:
Ngandu T et al. A 2 year multidomain intervention of diet, exercise, cognitive training, and vascular risk monitoring versus control to prevent cognitive decline in at-risk elderly people (FINGER): a randomised controlled trial. Lancet. 2015
Lehtisalo J, Ngandu T et al. Nutrient intake and dietary changes during a 2-year multi-domain lifestyle intervention among older adults: secondary analysis of the FINGER. Br J Nutr. 2017
Solomon A, Turunen H, Ngandu T et al. Effect of the Apolipoprotein E Genotype on Cognitive Change During a Multidomain Lifestyle Intervention: JAMA Neurol. 2018
Marengoni A,… Ngandu T. The effect of a 2-year intervention consisting of diet, physical exercise, cognitive training, and monitoring of vascular risk on chronic morbidity—the FINGER randomised controlled trial. J Am Med Dir Assoc. 2018;19:355-360
Rosenberg A, Ngandu T et al. Multidomain lifestyle intervention benefits a large elderly population at risk for cognitive decline and dementia regardless of baseline characteristics: the FINGER trial. Alzheimers Dement. 2018;14:263-270