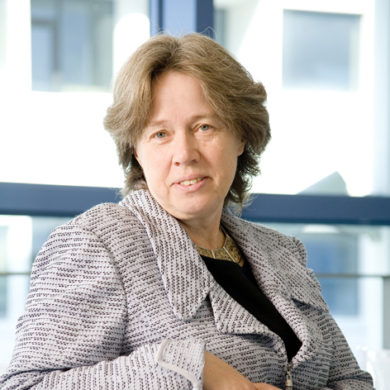 Professor and Chair of the Department of Hygiene, Epidemiology & Medical Statistics, Athens Medical School
Prof Athena Linos studied Medicine at the University of Athens Medical School (MD degree) and Public Health at Harvard School of Public Health (MPH). She also holds a PhD and a Professorial degree from the University of Athens Medical School in the field of Epidemiology.
In 2014, she was elected Professor and Chair of Dept. of Hygiene, Epidemiology & Medical Statistics at Athens Medical School.
Prof Linos has participated in numerous national and European Committees and Councils regarding public health and occupational health and safety. She has also served as the Vice President of the Greek Regulatory Agency for Medicines and as President of the Committee for the Prices of Medicinal Products, Ministry of Economy, Competitiveness and Shipping. She has been appointed as Special Secretary on Educational Planning, Education of Greek students abroad, Intercultural Education and Decentralization, Ministry of Education and Religious Affairs, Culture and Sports (7/2011- 10/2013).
 At European level, Prof. Linos was a member of the Expert Committee on the European Forum on Forward Looking Activities (EFLA) (DG Research and Innovation Policy) and also served as a member of the "Research, Innovation, and Science Policy Experts" (RISE) high level committee (DG Research and Innovation Policy). Moreover, she was on the School Fruit Scheme (DG Agriculture and Rural Development) of the European Commission and participated in the Jury Committee for the EU PRIZE for Women Innovators 2014.
Prof. Linos is the founder and President of the Prolepsis Institute of Preventive Medicine, Environmental and Occupational Health, which has recently developed targeted humanitarian action and public health interventions for over twenty years.
Recent Publications

Dalma, P. Karnaki, A. Baka, V. Raftopoulos, D. Zota, A. Veloudaki, A. Garrison, P. Montalban, Z. Dhanani & A. Linos. Promotion of Immunizations for Health Professionals in Europe: A Qualitative Study in Seven European Member States. Hospital Topics 2017.
Dalma, D. Zota, M. Kouvari, CM. Kastorini, A. Veloudaki, P. Ellis-Montalban, A. Petralias, A. Linos. Daily distribution of free healthy school meals or food-voucher intervention? Perceptions and attitudes of parents and educators. Appetite 2018; 627-635.