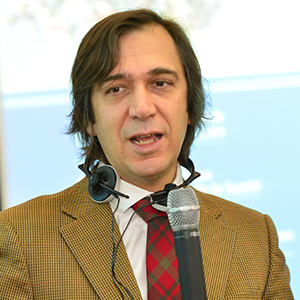 Head of the WHO European Office for the Prevention and Control of Noncommunicable Diseases based in Moscow, Russian Federation & Programme
Manager Nutrition, Physical Activity and Obesity
Head of the NCD Office in Moscow, Russian Federation. This office leads WHO work on strengthening national capacity in all 53 countries in the WHO European Region to prevent and control NCDs, promote an intersectoral approach and develop policies to tackle NCDs.
During the previous 7 years before moving to Moscow João Breda has been the Programme Manager: Nutrition, Physical Activity and Obesity at WHO Regional Office for Europe based in Copenhagen, responsible for providing support to the 53 Member States of the WHO European Region on the implementation of the European Food and Nutrition Action Plan 2015-2020 & the Physical Activity Strategy for the WHO European Region 2016-2025, as well as evaluating their implementation process.
PhD in Nutritional Sciences from Porto University where he defended a thesis focused on alcohol and young people. He has done his Master Degree in Public Health by the Faculty of Medical Sciences of Lisbon University and an MBA from the European University in Barcelona.
In 2007, in collaboration with WHO, organized the first meeting of the WHO European Childhood Obesity Surveillance Initiative in Portugal. Nowadays, the Initiative is unique in the world and has expanded considerably.
He was the first coordinator and led for several years the National Platform against Obesity.
Recent publications
Holly L. Rippin , Jayne Hutchinson , Jo Jewell, Joao J. Breda and Janet E. Cade. Adult Nutrient Intakes from Current National Dietary Surveys of European Populations. Nutrients 2017; 9, 1288.
B Unal, E Erkoyun, J Breda, E Loyola, G Galea. Impact of NCD Control Policies on change in body mass index and diabetes in the WHO Europe Region. The European Journal of Public Health 2017; 27(3).
Trudy MA Wijnhoven, Joop MA van Raaij, … and João Breda. WHO European Childhood Obesity Surveillance Initiative: body mass index and level of overweight among 6–9-year-old children from school year 2007/2008 to school year 2009/2010. BMC Public Health 2014; 14:806.
M Nelson and J Breda. School food and nutrition: developing the evidence base for policy. Public health Nutrition  2013.